In Home Appliance Repair Services!
We specialize in repairing all major residential appliances.
Call Today for a Free Estimate With Repair (617) 766-1379
Appliance Repair Boston - We're Committed To Fixing Your Appliance Right. The 1st Time!
Local Expert Boston Appliance Service Technicians With Years Of Experience
We are committed to solving your appliance repair headaches in Boston Massachusetts. We have trusted, local Boston appliance repairmen and professional technicians who have years of experience fixing all major brands of residential appliances as well as they use best technology, equipment, and training to properly diagnose your broken appliance issues.
Are you in search of a professional Boston appliance service business in your area that can fix just about all your kitchen and home appliance issues?
You have come to the right place, as we are the closest Boston repair shop in your area, and we are open today. As one of the leading and most reliable Boston appliance services companies, we understand that professional analysis of your appliances to establish what is wrong is far more important to most of our customers than investing in new ones.
Since we opened our doors, we have assisted countless business owners and households in the Boston area to fix old devices, which has allowed many people to carry on using their broken appliances for many years longer, which results in saving a significant amount of money.
You can also rely on us to repair just about any problem and brand that you can think of when it comes to appliances. Whether you need a fridge or washing machine repair service, we are here to match up to your needs and expectations. We provide several types of Boston Massachusetts maintenance services, which range from dishwasher repairs, refrigerator repairs, dryer repairs, washer repair, range repair, ice-maker service, stove repair, oven repair to freezer repair services.
Reasons To Choose Our Boston Appliance Repair Services
There may be many other Boston appliance repair businesses in Massachusetts that provide the same services that we do, yet we are confident that we are among the leaders when it comes to effectively and efficiently repairing. For this reason, you may be wondering why you should choose our company over other home appliance service providers in Boston Massachusetts.
Why Choose Us For Your Appliance Repair Near Me Needs?
All Appliance Repair Services Come With A Warranty On Both Parts & Labor.
Upfront Pricing
After doing a full diagnostic on your appliance the appliance repairman will provide you an estimate to repair which include parts and labor.
Same Day & Next Day Service
Fast appliance repair service in your local area to get your appliances fixed fast.  Our technicians have fully stocked trucks, so they can fix most appliance problems the same day.
Expert Appliance Techs
You can have peace of mind that the technician fixing your appliance knows exactly what he is doing, as they all have years of experience fixing all major brands.
Affordable
Our guarantee is that we have some of the most competitive prices around and this ensures that you will not over pay for your appliance repairs.
Experience
We are proud of the vast hands-on experience we have developed over the years when it comes to repairing home appliances of all types. This experience is owed to our highly experienced and skilled technicians that have extensive skills when it comes to repairing and servicing various types of appliances. This is why we can provide a number of reliable and efficient solutions for just about any electrical device, regardless of how complex that they may seem.
Unrivalled Work Ethic
We stand out from other nearby appliance companies because we take great pride in our outstanding honest and trustworthy work ethic. Our team all adhere to a stringent code-of-conduct. This is why we always serve our customers with the highest levels of professionalism.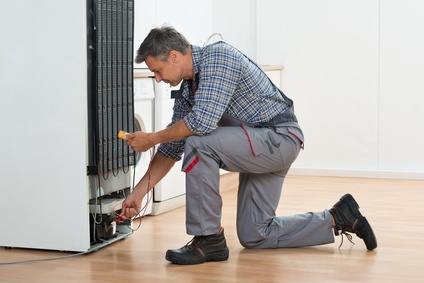 Warranty
We provide warranties on every appliance that we repair or fix. If for some reason, the appliance experiences the same problem again, we will fix it free of charge.
Top Rated Close by Services
This is one of the reasons that set us apart from our close competitors. We provide the highest quality services tailored to save you both money and time while repairing or servicing your appliances as fast as possible using the right equipment and tools.
Various Local Services
Unlike most companies in this area along with our competitors, who only offer a select number of services, we take pride in the range of services that we provide to our clientele. Here is a list of some of the more popular services close to you, that we have offered since we started operating in this area.
Appliance Repair Services We Provide
All Appliance Repair Services Come With A Warranty On Both Parts & Labor.
Refrigerator Repair
Our refrigerator repair technicians are experts at refrigerator repair and can fix problems like:
Fridge not cooling
Fridge leaking
Fridge making loud noises
Ice maker not making enough ice
Stove Repair
Our stove repair technicians are experts at gas and electric stove maintenance and can fix problems like:
Weak burner flames
Burners not working
Pilot light not working
Washer Repair
Our washing machine repair technicians and fix just about all washer repair problems including:
Washer leaking
Washing machine shaking
Washer making loud noises
Washing machine not draining
Washer not spinning
Wash machine not starting
Oven Repair
Our oven repair technicians and fix just about all oven service problems including:
Oven not having the right temperature
Oven door not locking
Oven not turning on
Oven not getting hot
Dryer Repair
Our laundry and clothes dryer repair techs can fix all your dryer service issues including:
Dryer making loud noises
Dryer not starting
Dryer not getting hot
Dryer not spinning
Dishwasher Repair
Our dishwasher service technicians are experts in fixing all major brands of dish washers and can help you with these repairs:
Dishwasher not cleaning the dishes properly.
Dishwasher leaking
Dishwasher door not closing
Dishwasher not draining
Dishwasher not starting
Refrigerator Repairs
Fridges are among the more popular of the appliances. They also usually give the least problems when compared to other appliances. They serve the function of keeping beverages and food fresh and cold for as long as possible. However, there are times when refrigerators also experience issues similar to other electronics. Rather than buying a brand new fridge, our refrigerator technicians will be able to offer you with reliable advice on whether it is worth it to fix it or replace it. If they can fix your fridge, we offer lasting solutions for most refrigerator problems, including repairs for your freezer and ice maker. Our refrigerator repairmen are experienced when it comes to handling all types of refrigerator repair problems.
Washing Machine Repairs
Water leaks from either a top or front loader washing machine are one of the common issues that many consumers experience.
To deal with dryer and washer problems, it becomes important to check on the fill hoses and drain of these laundry appliances. Secure any threaded fittings on a fill hose and ensure they are properly sealed. If you cannot find the leak either in the fill hoses or the drain, then the problem might have to do with the internal-tubes of the washers. Interior repairs for washing machines will require the experience and skills of a washer technician. Feel free to call our washing and dryer repair technicians to get these issues fixed.
Dryer Repairs
If you have an issue with an electric dryer, it could be caused by a worn-out drum belt. This belt is easy to replace and all that is needed is to first disconnect the power, take off the front and side panel. Now remove the worn belt and replace it with a new one. If there is another problem with your dryer call our dryer specialists to assist you further.
Stove Repairs
An electrical stove is typically an appliance that is not easy to fix or repair. A common malfunction that these stoves usually experience includes a faulty heating element. It is not recommended to try and fix a stove without prior experience, as it is risky or even dangerous when you do not know how to replace fuses or about how electrical circuits work.
Rather contact our local stove service specialists to help you repair your stove. We have experience when it comes to repairing every model and brand associated with electrical stoves. Here is a list of some of the popular brands that we have worked on since we opened our doors for business. This is backed up by many positive and consistent reviews.
Oven Repairs
Ovens nowadays are available in all types of price ranges, colors, and sizes. These cooking appliances are also prone to issues. When your oven starts to act strangely or stops working call our friendly oven repair technicians today, for speedy repair service. Our oven service technicians will give you advice on whether it would be a better idea to repair or replace your oven, which will obviously depend on the problem. For example, if the oven needs a replacement part, the service will cost more, which is an important factor to keep in mind.
Dishwasher Repairs
When your dishwasher is no longer performing the way that it once did, or it has started to leak, we can offer you a reliable solution for this important appliance.
Rather than throwing away your hard-earned money on buying a new one, allow our dishwasher service specialists to return your dishwasher to an efficient and functioning dish washing machine.
We Repair All Major Appliance Brands
Admiral, Amana, Bosch, Electrolux, Estate, Frigidaire, General Electric, GE Profile, Hotpoint, Jennair, Kenmore, Kenmore Elite, Kitchenaid, LG, Magic Chef, Maytag, Miele, Monogram, Roper, Samsung, Subzero, Thermador, Viking, Westinghouse, Whirlpool, Wolf.
We Also Service These Cities In Suffolk County, Massachusetts
Boston, Chelsea, Revere, Winthrop Town and all surrounding communities.
02108, 02109, 02110, 02111, 02113, 02114, 02115, 02116, 02118, 02119, 02120, 02121, 02122, 02124, 02125, 02126, 02127, 02128, 02129, 02130, 02131, 02132, 02134, 02135, 02136, 02163, 02199, 02203, 02210, 02215, 02150, 02151, 02152
Local Technicians Near You
Working Hours
8:00 AM - 4:30 PM
Monday - Friday
Call Us Now (617) 766-1379
We repair all major home appliances including washing machines, refrigerators, dishwashers, dryers, stoves and ovens.
Yes, our appliance repair technician will do a full diagnostic of your broken appliance.  They will then give you an estimate to repair the appliance including parts and labor.  If you decide to have them complete the repair, then the estimate is free and you only pay for parts and labor.
It depends on availability, but most appliance repairs are schedule either for Same Day or Next Day service.  If you have a broken refrigerator that is not cooling, we will do our best to accommodate you with a same day appointment.  The appliance repair technician will also call you 30 minutes before heading to your home, that way you don't have to wait at home for the appointment.